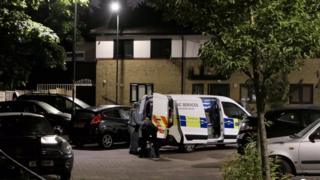 A two-year-old boy is in a serious condition in hospital after being hurt in a shooting in Harlesden, north west London, police have said.
The lone gunman is thought to have fled on a motorbike after firing at two men, a mother and her child in Energen Close just before 21:45 BST on Wednesday.
The three adults are in hospital with non-life-threatening injuries.
Det Ch Insp Rick Sewart said the child had been the victim of "wanton indiscriminate violence".
He added: "As result of this terrible crime an innocent two-year-old boy is now seriously ill in hospital.
"I know that people will be shocked and horrified that a little boy should be the victim of a gunman and I need the community to show their support for him and his family, by telling police what they know."
Police believe the suspect was holding a hand gun and he approached the victims in the street.
The child suffered his gunshot injury while sitting in a car.
The three adults, aged in their late teens and late 20s, are said to have known one another.
An witness, who did not want to be named, said she was watching TV when she heard screaming from outside before "everyone came out of their houses".
The neighbour, who has lived in Energen Close for 10 years, said the mother was screaming after her son was shot.
Specialist detectives are continuing to investigate and the Met said no arrests have been made.
The Met's North West Borough Cmdr Roy Smith said extra patrols of armed police officers will be carried out to reassure the public.
He said: "I know that residents will be worried about their safety and the safety of their families.
"This is my primary concern and local officers will be conducting additional patrols to provide support and a visible reassurance."
Overnight a Section 60 order was in place for the borough of Brent until 07:00, and a dispersal zone has been authorised for the Harlesden area, the force added.
Forensic officers continue to examine the scene.